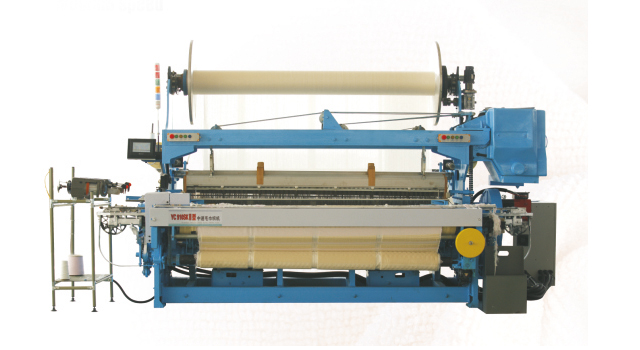 Specification
MODEL 910-SK-III ( FULLY SERVO WITH 5 SERVO DRIVE & ELECTRONIC SELECTOR & ELECTRONIC DOBBY) (YOUCHENG- BRAND):
The Key To Invension -
Version 2016 YOUCHENG touch screen full digit setting control system
YOUCHENG new digit control piling mechanism (Patent No.:ZL 2013 10201793.9)
Super servo power main motor system
Broad width of aluminum reed 4 linkages beating up mechanism
The longer filling picks mechanism
The picks finding linkage mechanism without disengaging mechanism (patent No.:ZL 201410375947.0)
Specification Parameters -
Width of loom(mm):2000、2300、2600、2800、3000
Speed of loon: 180 to 250rpm.
Control System: QUCHENG NEW 2016 VERSION with full digit control system, the whole working angle datum to be set directly , touch screen interface, digit control for taking up, let-off and let off terry yarn tension, digit control for piling terry, auto-picking finding, stopping at picks fixed, auto-pulling lace, the droppers for terry warp and ground warp to display separately, saving energy system, to calculate the statistics of shift output with production eficiency for 30 days.
Mai motor: with super power motor system, without clutch and brake mechanism. Driving structure simply. maintenance more less.
New type of framework, well- formed and stability.
With digit control panel to set terry height and adjust terry height, such as wavy terry, saw-tooth of pros and cons terry, longituainal high & low terry, transverse high & low terry and 3-7 picks terry at random.
To adopt the electronic servo control system for take up, each pick to be set to implement the synchronization weaving of changeable weft density.
To adopt the electronic servo controlss stem is let off, weft density to increase and decrease synchronously.
Digit control system reed motion with bearings structure of eccentric cam rotation for piling terry (Patent No. ZL 201310201793.9)
To adopt servo motor for let off of terry warp, with digit control system for setting tension of terry and satin fabric, to
increase the tension for satin fabric automatically for weaving satin fabric demand.
Picking finding mechanism: original creative new mechanism without disengaging device for picking finding with maintenance free (patent: 201410375947.0)
Fixed-picks stop function, to stop at any weft position at random, to stop the weft detecting device during weaving lace.
The modified longer 6 linkages for filling picks, short 4 linkages beating for reducing selvedge yarn breaking.
Box slay, large diameter rocking shaft with bearings and broad width reed structure to make sure the beating up fource for board, appearance is novelty.
The large diameter burr fabric roller, to make sure without pulling terry length consistent. With new type of protection board. appearance is novelty.
To set the piece of towel fabric, with automatic stop function when reaching the setting, with encoder meter length and the fixed length function.
20 to 24 levers electronic dobby with enclosed type and open type, can be worked with jacquard machine.
6 to 8 color selection function.
Warp Beam : Terry beam,600mm, 700mm, 800mm Ground beam: 600mm、0700mm
Maximum fabric diameter: 550mm, with YOUCHENG batching motion.